This week we continued our sequence about India..
On Monday we summed up the information we gathered from the webquest on India before our test We said that India is a republic, it is the second most populated country after China (more than one million inhabitants). The capital is New Delhi and Mumbai is the largest city and center of India's film and entertainment industry (the largest in the world!). There are also 15 regional languages but about 1500 dialects and languages spoken in India ! Thus Indian states are organized along linguistic lines and there are 28 states. We also said that English is the language used for diplomacy and that 14% of the population is Muslim and 80% Hindu. Finally we noticed that urban India is one of the most heavily industrialized areas in the world.

On Thursday, we separated the class into two groups : the first half with Theresa and the other half with our English teacher. With her, we carried on practising our speaking for our oral exam; wechose three documents about Australia and made a brief presentation.

On Friday, we started a new document, a text entitled "Changing India" which is an extract from an article by Anand Gorodharadas, an Indian who was born and grew up in the USA but decided to go back to India after his studies. He explains that when coming back to India he was surprised by the country because it was more modern than his parents had told him.

For monday we have to find the various changes towards modernity he mentions in his article and try to highlight the phrases he uses to speak about them and we have a a webquest to do for next Thursday on the change from Bombay to Mumbai.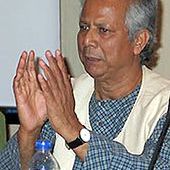 Microcredit - Wikipedia, the free encyclopedia
Critics argue, however, that microcredit has not had a positive impact on gender relationships, does not alleviate poverty, has led many borrowers into a debt trap and constitutes a "privatization ...
Here is a link to the wikipedia page on microcredit...
... and a video to watch to help you understand what the author mentions in his article.
Here is the webquest on Mumbai you have to do for Thursday.